Since she got a Blackberry for her 13th birthday, this rabid teenager has dedicated every spare moment to obsessive popstar devotion, BBM-ing her fan-forum friends as soon as their shared object of worship tweets/posts/sniffs/sighs. Before school, after school, in between lessons, and whenever the teacher's not looking, she encourages her early-onset RSI with aggressive Twitter-based street-teaming, all conducted under the banner of her star-bestowed fan-nickname, be it as part of the Heartbeats or Barbz or Navy or Beliebers or Rampant Hormonals. The internet is her battleground, a place to pour love on their object of pop desire like 1000 times a day OMG and to eliminate any perceived competition, be it fans or rival acts, using smear campaigns conducted with the kind of vicious precision politicians can onlydream of. Do not provoke.
Spotter's Guide
Provenance:
shopping centre, school canteen
Age:
14
Heroes:
Lady Gaga, Justin Bieber, One Direction
Villains:
Madonna
Distinguishing marks:
Mascara, streaked from sobbing
Most likely to:
post video of sobbing on YouTube under the username MRSRIZZLEKICKS4EVA69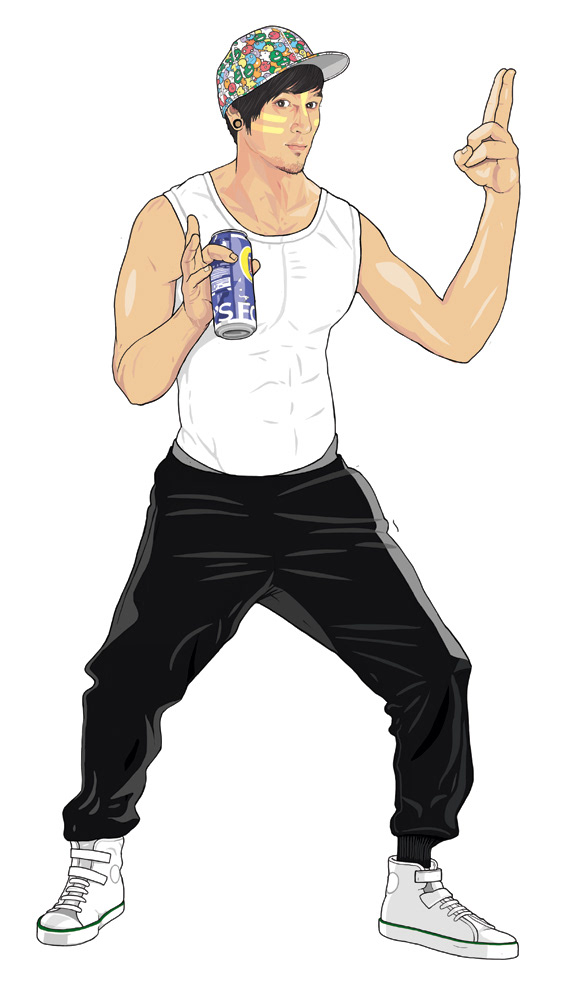 BRO-STEPPER
Squeezing his muscular moobs into a tight white top for his weekend shifts at his local sports centre, this dude has his way with the gym's soundsystem whenever his supervisor pops out for a fag. "It's the drop!" he shouts at the baffled treadmill army, waving his fingers out of time, secretly unsure what exactly the drop is (though he suspects it's the good bit when everything goes mental!). At the end of the day, he scrubs up and goes out to the club in the next town along with the lads, where he spends hours body-slamming to the beat. The head-hammering womps rattle his brain and make him stick out his tongue and salute the air with devil horns. It feels good to let loose and bump bare chests with his bros, all sweaty and rubbed in neon paint. Sometimes they cup each other's balls. You've got the wub.
Spotter's Guide
Provenance:
gym, dancefloor
Age:
23
Heroes:
Skrillex, Skream, Chase and Status
Villains:
Dubstep purists
Distinguishing marks:
happy grin, perforated eardrums
Most likely to:
perspire on you
EARNEST PITCHFORKER
By day, this librarian bohemian is both gentle and brutal, much like her death metal-themed cupcake business. She loves nothing more than a beautiful folk ballad, ideally one with harmonies gleaned from the natural call of a rare troop of Appalachian mountain lions, but is swift to gobble up blog posts on obscure new techno acts, simply so can she reject them with a swift, "over it". Her default homescreen is Pitchfork – she sighs dismissively when anyone mentions it, because if there's one thing she's most over, it's Pitchfork, ever since they gave her beloved Gallant Panda Tent's last EP 4.7 – but still checks it 215 times a day. When she is not mulling over the big issues, such as whether Lana Del Rey's post-backlash backlash cancels out any future backlash, she is scouring Tumblr for well-lit pictures of Bon Iver, taken with extra-grainy Hipstamatic effect. She is thinking about buying cassettes again.
Spotter's Guide
Provenance:
bedroom, coffee shop with wifi
Age:
29
Heroes:
Psychedelic Horseshit, Evian Christ
Villains:
popular music
Distinguishing marks:
horn-rimmed spectacles (without the glass)
Most likely to:
roll eyes
BUS KID
Bus Kid's life is on hold until he's 17, when he's going to get his car fitted with the biggest bass bins in the town, so everyone can hear him blasting out 1Xtra. (He'll turn it down when he listens to Fearne Cotton, though, but sometimes the Live Lounge
is
 amazing.) Right now he has to settle for the next best thing: the tiny tinny speakers on the Samsung Galaxy his mum got him so he can tell her when he's leaving afterschool club. He sits slumped in his seat, staring out of the window from beneath his hood, nodding to the beat. Sometimes, he'll rapalong to the mixtapes his brother tells him to download, but only when there are no bigger boys on the top deck. In his car there will be no bigger boys.
Spotter's Guide
Provenance:
public transport
Age:
14
Heroes:
Tupac, Notorious BIG, Cher Lloyd
Villains:
bus inspectors, the rest of the bus, headphones
Distinguishing marks:
menacing acne
Most likely to:
freestyle his English homework
OLD RAVER
As he rocks the baby for the fifth time that night, this new dad drifts off into a sleep-deprived dream of the good times he once had with the gang: Ibiza, Ayia Napa, Gatecrasher,Cream, now dinner parties topped off with a dessert dab of MDMA. He worries about his struggling web consultancy start-up as he wanders into the spare room to look at his 12" collection, saved from an eBay fate by his insistence that he'd stick it in the garage once the baby arrived, and remembers the night they stole a boat and tried to get to Formentera, until Fran passed out and they thought she'd OD-ed and everyone panicked and ran off. He'd never admit this, but he's glad he's too old to do it all again.
Spotter's Guide
Provenance:
nursery
Age:
41
Heroes:
Underground Resistance, Richie Hawtin, Raf Rundell
Villains:
age, CD decks
Distinguishing marks:
tired eyes
Most likely to:
fall asleep by 10.30pm
R&B QUEEN
Long of leg and healthy of bosom, this diva-in-training practically lives at the late-opening bar she works in. By day she lives in her Beats By Dre headphones, rotating Usher, Ciara and Azealia Banks, removing them under duress only to serve the afternoon drunks. At night she sticks around and hangs out – literally, for evening clothes are made to be small and tight – on the dancefloor while her boyfriend the DJ plays the tracks she's turned him on to, accepting the odd glass of champagne from her many admirers. But only if she's in the mood. If you interrupt her while she's dancing with her girlfriends, she will cut you with her razor-sharp stiletto, or perhaps just her gaze. Unless you're J Cole, of course. For you she's very, very ready to make an exception.
Spotter's Guide
Provenance:
the bar
Age:
21
Heroes:
Beyonce, Mary J Blige, Cassie
Villains:
bouncers
Distinguishing marks:
hoop earrings, precision eyeliner, girl gang
Most likely to:
bust out the Single Ladies dance
POP FIEND
Taping the Top 40 off the radio as a child made this popsessive the man he is today, when Bananarama's dungarees stirred strange feelings that he's spent 30 years trying to recapture. His dedication to the deadly serious business of the charts means a double-pronged attack of collecting tat (he's got two Nadine dolls, in the faint hope that he can one day swap one for a Cheryl) and preaching to the unconverted, for whom the realisation that Will Young is the natural heir to George Michael does not come so easily. Through hours of lengthy posts in grown-up pop forums, he will convince them. He wears his Janet Jackson lanyard underneath his shirt at the office, but when he gets home, he swaps it for his The Saturdays T-shirt. People think he means it ironically, but he knows it's for real, always.
Spotter's Guide
Provenance:
eBay
Age:
38
Heroes:
Lady Gaga, Take That, Pet Shop Boys
Villains:
Noel Gallagher
Distinguishing marks:
alphabetised Madonna collection, on every format, sub-filed by year
Most likely to:
outbid you on that rare Britney keyring, circa '99
NU METALHEAD
When goth and metal had a threesome with pop and conceived an emo-shaped baby, this sensitive creature emerged blinking into the world, emaciated, dressed entirely in black and sweeping his asymmetrical haircut out of his eyes. In his first week of university, where he is studying sociology, he threw away his old puffa jacket and spent a terrifying amount of his student loan on a long leather coat. He is devoted to vegetarianism, even more vocally when he is talking to the pretty girl with multi-coloured dreads from the Vegan Soc he will definitely join soon. His faded, torn Iron Maiden T-shirt once belonged to his dad, who is secretly proud that his son is carrying the flag, though doesn't see why this has to involve eyeliner.
Spotter's Guide
Provenance:
currently, the entrance to the local shopping centre, smoking. One day, hopefully, London's Crobar rock pub.
Age:
19
Heroes:
Jared Leto, Gerard Way
Villains:
sport
Distinguishing marks:
insta-regret tattoos, hair dye
Most likely to:
mope about it
TRUST FUND TROUBADOUR
Daddy wouldn't let him take his gap year until he'd done a resit of his history A-level (that C would mean Durham was off-limits), but it was worth the wait: while at a full moon party in Thailand, the TFT had a life-changing epiphany. There's more to life than the fascist ratrace, he decided, as a 66-year-old rat-tailed cockney called Aurastarbeam handed him a pair of bongos. On his return to civilisation, weighed down not only by the total harshness of the modern world but also by an arm full of ragged festival wristbands, the TFT decided to dedicate his life to travelling the nation's parks, serenading sunbathers with his heartfelt ballads about economic meltdown and wars and bad stuff. "Stop the banks, halt the tanks," he trills, strumming his battered acoustic guitar, as a stray frisbee hits him on the head and knocks him into a fountain, extinguishing his giant spliff and ruining his iPhone.
Spotter's Guide
Provenance:
parks, festival campsites, Oxfordshire
Age:
21
Heroes:
Bob Dylan, EdSheeran, Newton Faulkner
Villains:
"The Man", his dad
Distinguishing marks:
We Are The 99% henna tattoo
Most likely to:
nap against the machine
MOD DAD 
He can still squeeze into his mohair suit strides (because for the past few years, he's been paying for tailored trousers to accommodate his widening hips), and with his Italian loafers and Laurel Wreath Collection knitted Fred Perry, he reckons he can still pass for the handsome fella who featured on the cover of Direction Reaction Creation fanzine as an "ace face" in 1980. Obviously, he had lovely feathery Rod The Mod hair then. And cheek bones. Still, Mod Dad has been wearing the very latest variation of the same outfit with distinction to every Jam/Style Council/Weller gig in the South East since 1979. He's not adverse to new stuff like Noel Gallagher too, but old soul singles are his real passion. A few years ago he spent £300 on a mint 45 of Jack Montgomery's Don't Turn Your Back On Me. His marriage has never recovered.
Spotter's Guide
Provenance:
under your sink, fixing your overflow
Age:
52
Heroes:
Paul Weller, Martin Freeman
Villains:
high streetdenim
Distinguishing marks:
Fred Perry T-shirt (tight)
Most likely to:
host a monthly northern soul and mod revival night down his local pub
Art direction by Daniel Knight and Salman Naqvi.